Now Playing
2017 Winter - Spring Brochure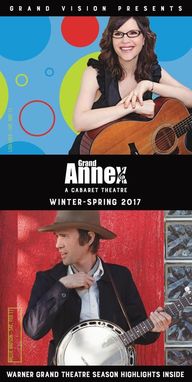 https://simplebooklet.com/grandvision2017
Thank You to
Our Supporters
We Are:
The official Friends Group to the historic art deco Warner Grand Theatre in downtown San Pedro, California.
The Grand Annex, a 150-seat cabaret concert venue down the street from the Warner Grand.
Meet the Music, a free educational program which introduces music to Harbor Area students.
A welcoming place to volunteer and get involved!
KPCC Story on the NEA features Team Taiko
Making Music Makes A Community
Grand Vision's Executive Director, Liz Schindler Johnson spoke with KPCC's Priska Neely about Team Taiko, our transformative music engagement program. Liz also spoke in detail about the importance of NEA grants to small arts organizations such as Grand Vision. The story aired on Tuesday March 14.
2017 Gathering For The Grand - a Huge Success!
"Some Enchanted Evening"
Saturday, March 18th was an unforgettable and hugely successful evening at Crafted At The Port of Los Angeles, honoring long-time Harbor area arts patrons, Scott Donnelly and Dr. Wade Nishimoto.
Max H. Gluck Foundation Awards Meet The Music With Generous Grant
Local 4th and 5th grade students benefit!
The Max. H. Gluck Foundation has generously awarded a $10,000 grant to continue the growth of Grand Visionís Meet The Music program. The Gluck Foundationís mission is to support programs that address the educational, health, cultural and creative needs of the underserved. In doing so, they show deep compassion for those with limited resources or with none at all. We are so grateful!