Now Playing
2017 Winter - Spring Brochure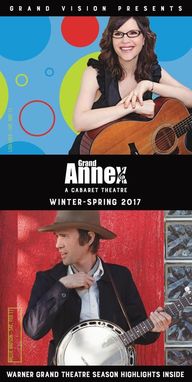 https://simplebooklet.com/grandvision2017
Thank You to
Our Supporters
We Are:
The official Friends Group to the historic art deco Warner Grand Theatre in downtown San Pedro, California.
The Grand Annex, a 150-seat cabaret concert venue down the street from the Warner Grand.
Meet the Music, a free educational program which introduces music to Harbor Area students.
A welcoming place to volunteer and get involved!
Warner Grand Update
A Season of Thanks and Uncertainty
We're grateful to those who have brought exciting concerts to the Warner Grand Theatre this year, from Gary Wright to the Goo Goo Dolls. Yet, how the theater will be managed in the future is still unknown. The City of LA's Request for Proposals (RFP) seeking a major concert promoter to operate the Theatre received no responses. However, Grand Vision recently sent a letter, offering to run the theatre in partnership with the City, according to a shared vision.
Regardless of what happens, Grand Vision is excited to be launching a docent program, so we can offer tours of the Theatre by trained guides- revealing all the Art Deco movie palace's mysterious nooks and crannies and the tales they have to tell. Reporter Donna Littlejohn summed up this continuing saga in a Daily Breeze article "Theater Benefactors Ready to Expand" on November 20, 2016.
Team Taiko
Making Music Makes A Community!
Team Taiko is Grand Vision Foundations signature community engagement program for adult English Language Learners.
Why Music Education?
4th and 5th graders learn the foundations of music thanks to Grand Vision's Meet The Music
We all know that education in the arts is important to children's development. We believe that music is life, and we have seen children come alive through music to engage more fully in the world.