Now Playing
2017 Winter - Spring Brochure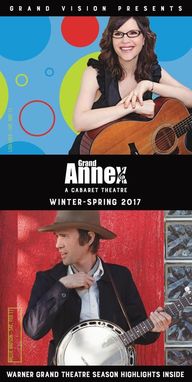 https://simplebooklet.com/grandvision2017
Thank You to
Our Supporters
We Are:
The official Friends Group to the historic art deco Warner Grand Theatre in downtown San Pedro, California.
The Grand Annex, a 150-seat cabaret concert venue down the street from the Warner Grand.
Meet the Music, a free educational program which introduces music to Harbor Area students.
A welcoming place to volunteer and get involved!
Liz Schindler Johnson appointed L.A. County Arts Commissioner
Grand Vision's Executive Director accepts post
2017 Gathering For The Grand - a Huge Success!
"Some Enchanted Evening"
KPCC Story on the NEA features Team Taiko
Making Music Makes A Community
Max H. Gluck Foundation Awards Meet The Music With Generous Grant
Local 4th and 5th grade students benefit!